How to get a job in webcam
Before mastering a new profession, we carefully study information about it on the Internet. With a vacancy as a webcam model, this is not entirely easy. The work is specific, has pitfalls and is not well publicized in general circles.
Among the advantages can be noted:
a work schedule that is easy to customize;

choice of any image and behavior;

diversity in communication with interesting residents of countries around the world;

earnings in foreign currency;

you will have to constantly take care of your beauty in order to look presentable on camera.
Most often, in the profession of a web model, girls blossom and become prettier. Fans spend most of their shift complimenting and boosting their self-esteem by sending generous tips.
So that you are not afraid to start your journey, there is a service called Grand Models, which provides support for models. It has been operating since 2019 and provides support and assistance to remote streamers 24/7 for a nominal commission. Service operators are involved in setting up equipment and applications. And in the training materials you will find useful information for work.
How to get a webcam job
People who work in webcams share some common qualities.
This is liberation, love of attention, the ability to work on camera and communicate with people. But even if you are a modest person who rarely goes out in public, you can make good money. You will need to get used to the unusual interests of site visitors and the rules of behavior on the site. After a few weeks, you will get the hang of it and be able to treat being a streamer like a game. It will be easier to decide what kind of character you will be in it.
Due to the large number of models on the platforms, the streamer has to stand out and choose a special image, emphasizing individuality. How to attract your audience. Many visitors to adult sites are regular customers who wander on them for years, looking for the one.
In order to hook them and make them your fans, the model needs to show her charisma and imagination.
External data is not as important as sincere interest in visitors and the desire to please them. You can be an excellent listener, conversationalist, or show entertaining, erotic shows.
You can work as a web model remotely from home (or, more precisely, from anywhere in the world). And also by getting a job in a physical studio.
To work for yourself, you will need to study the Internet for materials about the webcam industry:
What is a webcam?

How to work as a web model?

How to behave correctly to attract an audience?

Which sites should I register on? And how to do this?
You will also have to deal with withdrawing money. However, this is not the easiest moment, because there is no usual output to the card. You will have to additionally register foreign wallets or get acquainted with cryptocurrency. The procedure is not quick. But if you are ready for this, then go for it!
For those who would like to get started, but do not want to study all the details on their own, there are other ways.
Webcam work from home
To start working from home, you only need 2 things: a device with a camera and stable internet. For example, cooperation with Grand Models can be started from a mobile phone.
It is not necessary to have work experience or a separate account for streaming. You can even travel the world and broadcast while walking down the street. To do this, you just need to choose those sites where this is permissible, and not allow unregistered persons into the frame. Also, the latest iOS updates have added the ability to blur the background. By enabling this feature, you can freely broadcast in a public place.
Models working from home first set up a room for streaming. The interior looks best in light colors that do not distract viewers from the main character.
For a high-quality image, there must be good lighting in the room. At first, a couple of ring lamps will be enough.
Over time, models accumulate funds and invest in more powerful equipment to earn even more. Many members become sponsors of models and donate equipment for work.
When you stream from home, responsibility for your schedule and shift length falls entirely on your shoulders. Let's not lie and say that you can work whenever and as much as you want. At first, you work on the reputation of your account. You will be given a promotional period to help you attract as many users as possible and make them your regular customers. Once you have built up your fan base, you can arrange online meeting times with fans that are convenient for everyone.
Until this point, the model needs self-discipline to go on air regularly. The more often viewers see you on the site, the sooner they will get used to it and happily come to your next show.
To catch the attention of users, girls most often dance in bright costumes, show off their bodies, play games, and have fun.
For beginner models at home, the easiest way to get started is with an online service.
The Grand Models company employs caring staff who remotely register on 15 of the most popular and solvent platforms, provide online training, resolve any technical issues 24/7 and withdraw money to any convenient cards and wallets.
All this for a symbolic commission of 17 to 1%. The more you earn, the lower the service commission.
In order to register and start working from home, you will only need to fill out a form on the Grandmodels.online website. Upload your documents there. After this, a manager will contact you within 15 minutes and help you understand the intricacies of the profession.
Within a couple of days, an account will be registered on foreign sites, and you can immediately start earning money. The service also offers early withdrawal of funds. (In addition to automatic payments twice a month, you can withdraw your earnings every day).
Webcam work in the studio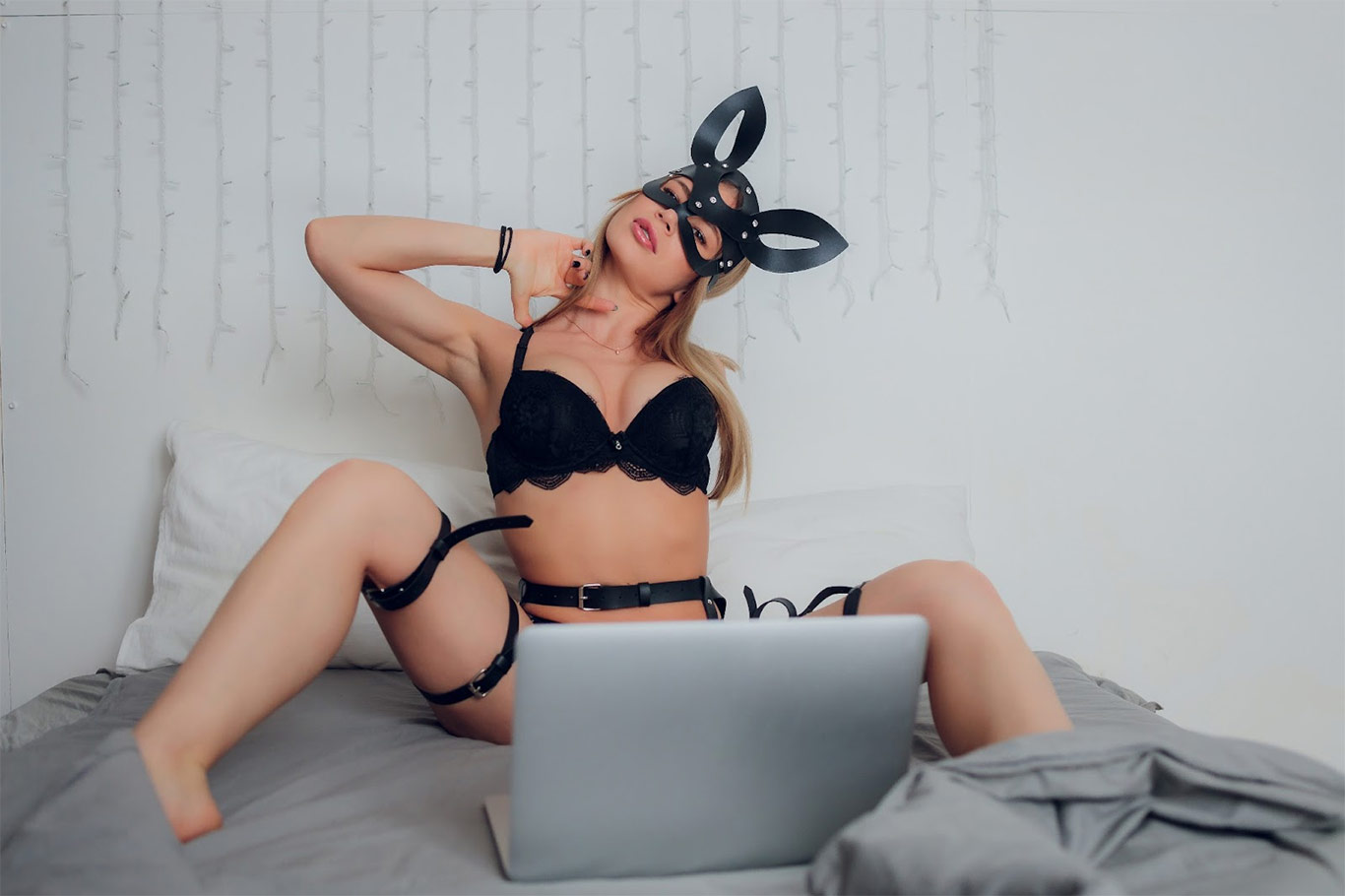 The second option for working in webcam is the format of cooperation with physical studios. As a rule, this is an apartment with several rooms equipped for streaming. There is an administrator who shows the models how to work and monitors compliance with the regulations. Unlike an online service, a physical studio usually takes from 50 to 85% of the models' earnings. Explaining this by saying that all the equipment and premises belong to them.
There are good options in which models are helped to develop. Photo sessions and trainings are conducted to increase earnings. In this format, the model, following the rules of the team, earns big money.
The physical studio trains discipline well, since employees will be fined for any missed shift or failure to fulfill the terms of the contract. This point is not available in the Grand Models online service.
To get a job in a physical studio, a model will need to find all the options in her city. Usually there are catalogs of studios from big cities on the Internet. In them you can read the main conditions of the company and reviews about it. If the city is small, most likely only word of mouth will help.
To avoid disappointment in your profession, take your time with your choice. Research those you are going to collaborate with. Because not all employers, as in any other field, are conscientious.
Once you have decided and submitted your application, you will be invited to an interview in the office. There you can find out all the details of work in this studio. You will need to calculate your strength in advance. Will you be able to follow all the rules without being fined?
It is important that the rooms are clean. You should be comfortable working in the conditions provided, since your mood and earnings depend on this. You have the right to choose, since you will be paying a significant percentage of your earnings for this place.
The physical studio must be staffed by a technician. Every day, as a web model, she has to change settings, repair equipment, and deal with other everyday issues, without which the quality of the broadcast suffers. And it will be difficult to cope with this on your own.
If you and the studio are satisfied with everything, the classic procedure will begin. You will need photographs from your life and with your passport. They are taken and you are registered on foreign sites. On average it takes about 2-3 days. Maximum - 7. After that you will be able to complete training and start working.
An interpreter can also be provided to help you. In this case, the model does what the operator tells it to do. Which, in turn, conducts full correspondence with clients on behalf of the model. This type of cooperation is characterized by a higher percentage payment to the studio. It is suitable for relaxed streamers who do not know foreign languages well.
Once you agree to work with an operator, discuss your boundaries with the staff in advance. Site visitors can test what you are capable of. Therefore, it is better to immediately clarify what you are not ready to do for any money. The operator will try to maximize your income. But the freedom of choice always remains yours. Remember this and do not give in to provocations either from the members or from the studio employees.
The webcam industry is filled with a creative atmosphere, great opportunities and good earnings. This is the spirit of freedom in which everyone can express themselves as they want. You can try this profession remotely even while combining it with your main job. For example, broadcasting on weekends. After your first earnings, you will compare your impressions and decide whether to switch to streaming.
We invite you to cooperate and will be happy to help you earn money as a web model.