Work on the Bongacams Website
Bongacams is one of the most popular streaming platforms in the CIS. The site regularly wins international competitions on cam forums, providing a large influx of traffic for models.
On the site, it is possible to work not only from a PC or laptop, but also from a smartphone or tablet. To do this, just download the Bongacams App mobile application for Android and BM Broadcaster for iOS.
Bongacams Features
Given that most of the visitors to the site are Russian-speaking members, it is chosen for work by those who do not know foreign languages well. Spectators from foreign countries also meet, but in smaller numbers.
To communicate with foreigners, the site has a built-in translator.
The menu is also presented in Russian. Therefore, it is easy for beginner streamers to get comfortable and intuitively understand how to start earning.
Girls, boys, couples and transgenders are allowed to work. The latter, if necessary, will have to undergo gender verification.
Earnings on this site depend on the rating of the model and her ability to motivate members to pay.
Users can send money in the form of tips or pay by the minute for private chats. You set the cost of one minute yourself.
Price Range and Paid Chat Formats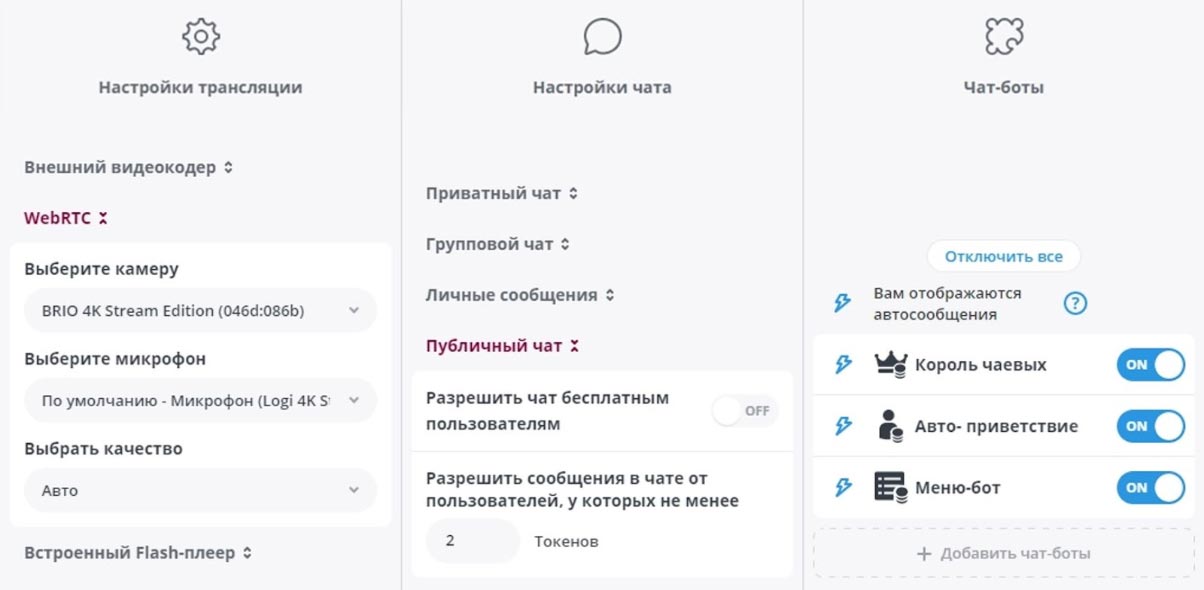 1 token is equal to $0.019 (no free video in profile) or = $0.022 (with uploaded video)
Private chat - one-on-one communication with a member, with a per-minute payment (30-250 tokens)
"Peepers" - guests who have not bought a private can peep. And they also pay for it every minute (5-80 tokens)
Full private chats - private without peeping. Only the model and the member are in the chat (30-300 tokens)
Group chat - private chat with several viewers at the same time. Costs 10-150 tokens (regardless of the number of users)
How to become a web model on Bongacams and start working?
To get started, you have to register.
As soon as the profile is verified, you can go live using the "Start Broadcasting" button.

Next, select a microphone and camera from the available devices.

On the screen you will see your own image, which is broadcast to clients.
In the middle of the screen is a chat, at the bottom is a line for entering messages. On the side is a column containing the nicknames of those who are currently watching the broadcast. You can select any user by clicking on his nickname to write him a message or block him.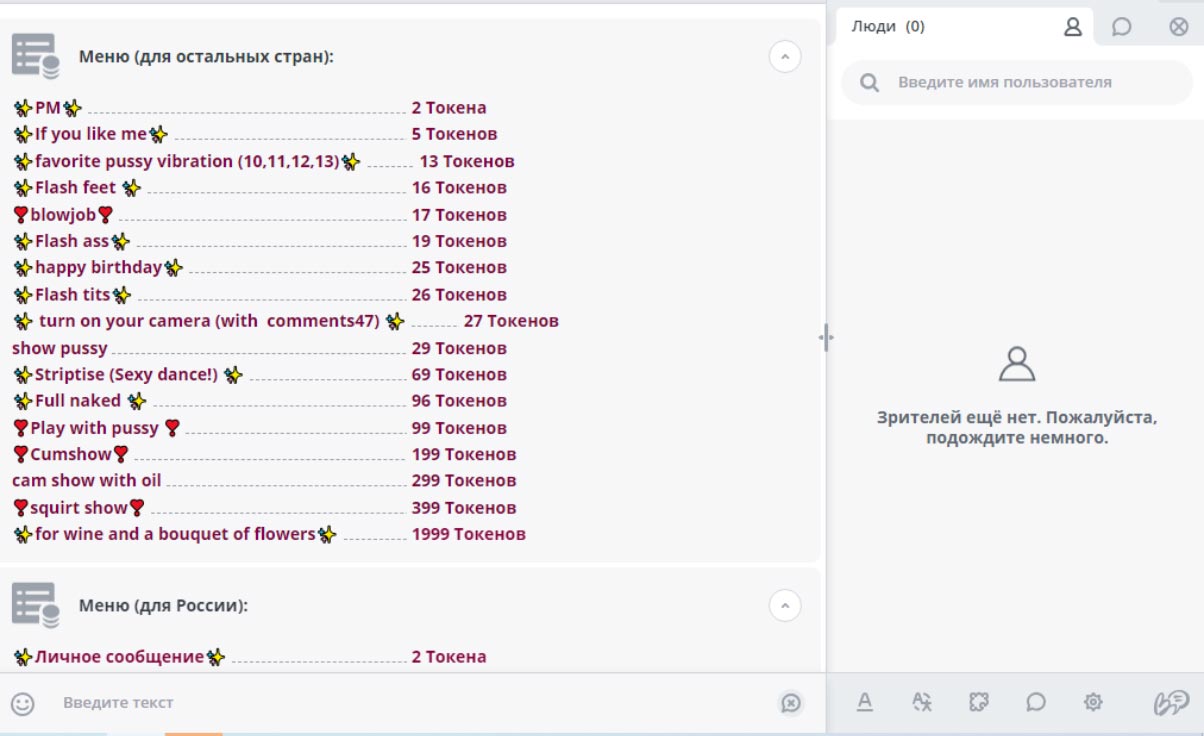 If you encounter any difficulties, you can always contact support. Experts will help you set up your profile and equipment correctly so that you can start working right away.
How to increase your income on Bongacams
You can earn more if you simultaneously show the show and write to those guests who are currently in the chat. Don't be afraid to take the initiative and ask the purpose of your members' visit.
To attract models, they use the design of their page. They write enticing statuses in different languages. They indicate their mood or the list of services provided. Or discount of the day.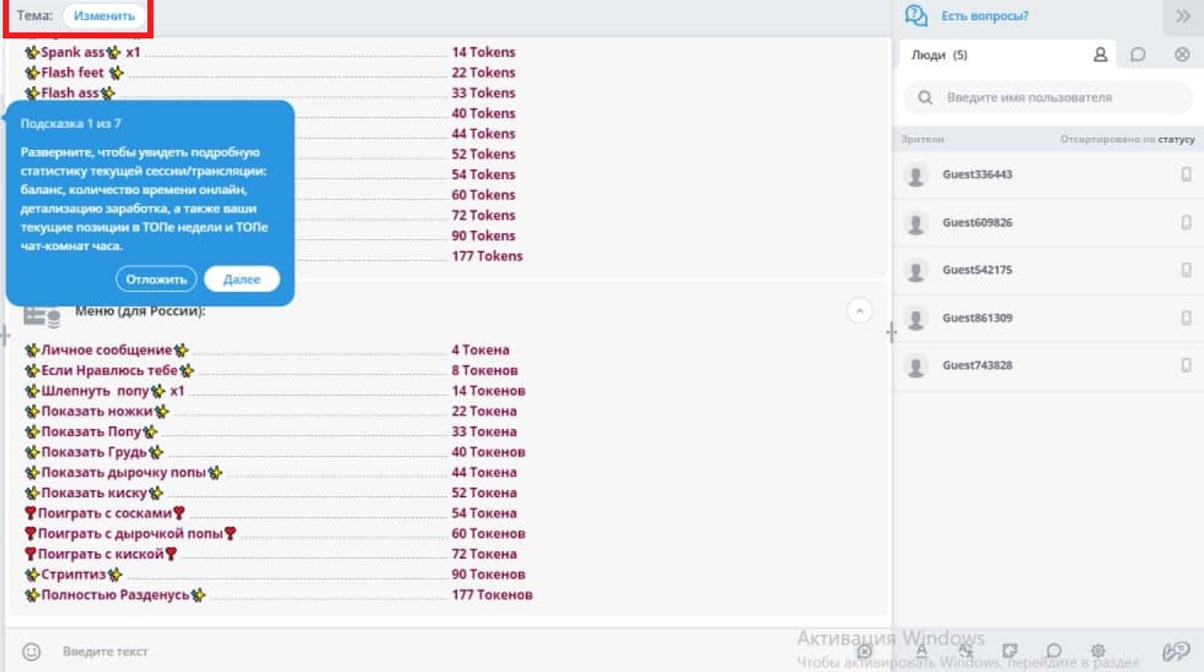 There are also many bots on the site, when filling out which you will not need to constantly repeat your prices, greet and thank customers. The bot will do it for you after a one-time filling and even arrange an interactive with the audience. By using bots, you will save your time and effort.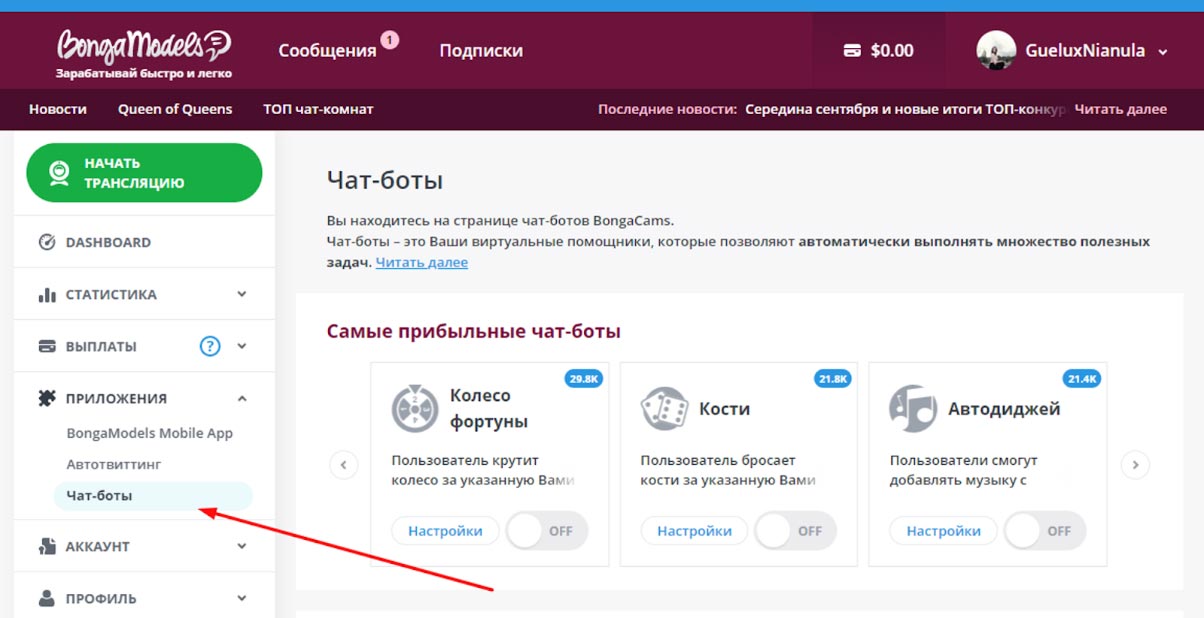 If you only want to work with members from abroad, try to avoid speaking Russian. Chat more with foreigners, ask to be added to your favorites, memorize their preferences in order to turn them into regular visitors. So over time, you will create your base of foreign customers.
Be friendly to your potential customers, smile more often. Do not allow situations where you do not move at all. After all, a frozen pose quickly bores the viewer, and he leaves for other pages.
Use your voice. The voice is your very powerful instrument. It is important for the audience not only to see you, but also to hear. Therefore, the microphone is your faithful assistant.
Write intriguing private messages to members. This is good for every man.
Buy toys and accessories for work. They will make your shows more diverse. Keep them close at hand so you don't get lost in a member's field of vision when you're looking for one item or another.
Be sure to pay attention to the design of your workplace. Let it suit your style. For a cute calm girl, nude colors will be harmonious, and neon lamps and bright wallpapers will suit a stylish gamer.
And finally, a recommendation about the mood before work. It is best to earn money from those models who like what they do. All the energy that you broadcast is transmitted through the camera and attracts grateful and solvent customers. Therefore, if you do not focus on tokens, but enjoy your work, it will be easier for you to get them.
Model earnings in Bongacams
Income on Bong depends on the diligence of the model, the ability to communicate with visitors and maintain your account. You can receive from 100 tokens up to several thousand dollars.
The site rewards with a high rating those streamers who regularly post photo and video content.
You can also increase your positions by going live on a regular basis. By spending more time chatting, you'll earn points just for being online every day! On the contrary, being out of the chat for more than 2 days can lead to a significant decrease in the rating.
Once you've made sure that your internet connection speed and quality is suitable for your streaming, you can start implementing other things. Models with a poor Internet connection will never take the first lines in the general list of models.